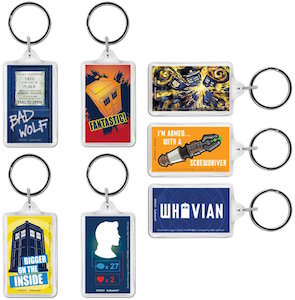 Why get one Doctor Who key chain when you can have 7?
So this set of 7 key chains is the perfect gift for a Doctor Who fan with lots of keys.
The key chain set has 7 key chains that are all shaped the same way but show different pictures. You can find the Tardis in many shapes and forms, Bad Wolf and Whovian are there and even the Doctor explained with 27 x the brain power and two hearts and to make it all complete there is also a key chain with a Sonic Screwdriver.
And if you don't have enough keys then why not share some with your friends or use them as decoration / zipper pulls on bags and jackets.
You don't have to choose as you can have this Doctor Who 7 Piece Key Chain Set.