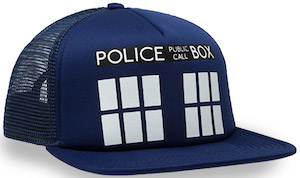 This trucker style baseball cap is dark blue but it offers more to the people that heard about the Doctor.
As this front of this hat has the top of the Tardis doors printed on it.
You can see the windows and the top sign saying "Police Public Call Box" just like it does in the Doctor Who episodes on TV.
And you never know maybe the 12th Doctor would prefer this trucker hat over a fez.
This Tardis cap is easily to adjust in size so that it will fit most adults and even has the BBC Doctor Who logo on the side.
I know this just is the perfect hat for you so don't wait get your own Doctor Who Tardis Cap.