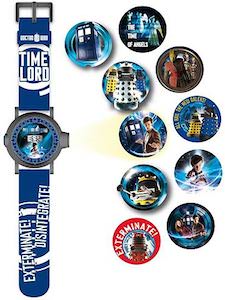 Do you want to tell the world all about Doctor Who?
It's difficult when you don't know what time it is and when you don't have a TV handy.
Now your life will be easier as not there is this Doctor Who watch that of course tell time.
But this watch also shows 10 different pictures from Doctor Who. How you wonder, simple it projects it to the wall or any other light surface.
Just imagine having Doctor Who always handy for you to show or maybe a Dalek or Weeping Angel just to make it complete.
If you are the Doctor Who fan in need of a special watch then check out this Doctor Who Projection Watch.