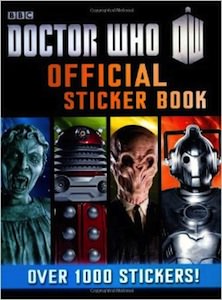 Just imagine that the Doctor would have taken photo's from the last 50 years.
There would be a lot of the Tardis and a lot more about his enemies.
OK he did not take any photo's but there are stickers many many stickers from Doctor Who and his enemies.
This Doctor Who sticker book has more then 1000 stickers of witch more 200 of the aliens and enemies.
With this official sticker book you can have access to stickers of the first 11 Doctors and of course the Tardis, Dalek, Silence, Cybermen, Weeping Angels and much much more.
Now you can decorate anything Doctor Who style by simply using one or more stickers.
Time to have some sticker fun with this Doctor Who Official Sticker Book.