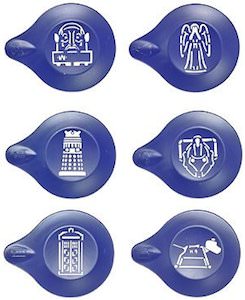 Now you hot drinks and cupcakes could have Doctor Who theme to.
This dusting stencil set offers 6 designs that can be used to dust drinks like hot chocolates and cappuccino's or to make a cupcake look even better.
These dusting shields are easy to use and offer a easy way to decorate.
There are 6 different stencils in the Doctor Who stencil set and they are the following:
Sontaran
Weeping Angel
Dalek
Cyberman
Tardis
K-9
So 6 fun designs that will make a Doctor Who party even better and if you wonder how the designs turn out then just simply click on the pictue above that will bring you to a picture of the results.
Lets do some dusting with this Doctor Who Dusting Stencil Set.