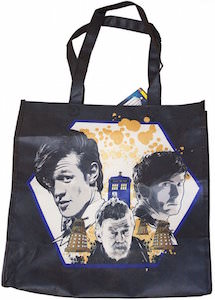 Do you remember "The Day Of The Doctor" episode that was there to celebrate the 50 anniversary of Doctor Who?
If you did then you are gone love this tote bag.
The tote bag is black but also has a white shape in the middle that has the Tardis on it and some flying Dalek and yes 3 Doctor's are there to.
You can find the 10 and 11th Doctor's on the side and the War Doctor in the middle making this bag just perfect.
A bag like this is great for shopping or taking things to school.
So if you are looking for the perfect shopping bag then stop looking and get this Doctor Who The Day Of The Doctor Tote Bag.