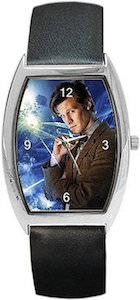 Is the 11th Doctor your favorite and you are looking for a watch?
How about this barrel style watch that shows a picture of Matt Smith as the 11th Doctor?
The watch is great for women and men and will be a reminder of how great the 11th Doctor Who was.
And this Doctor Who wrist watch has a nice leather band so that your watch will look stunning on your wrist and this probably is gone be the watch you will love for a long time.
Why go for a boring watch when you can have one that shows the Doctor?
Come shop for your new time piece and let it be this Doctor Who 11th Doctor Matt Smith Watch.