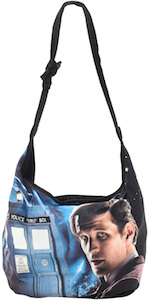 Of course we still like Doctor number 11.
And this hobo style bag is just about him and the Tardis.
This Doctor Who handbag shows a picture with the Tardis in the background and a closeup of Matt Smith as the Doctor on the right.
It's a great bag for everyday use. It has a snap button for easy closing and access to all your stuff.
And because the Tardis is also on the bag it maybe even bigger on the inside.
Why have a good old plain colored bag when you can have one with Doctor Who on it.
Lets switch bags to this Doctor Who 11th Doctor Hobo Bag.