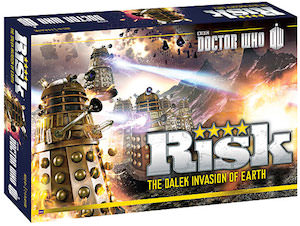 On a day when it's no fun to go outside and no Doctor Who on TV you now can play Risk.
And yes this is Risk the board game we all know and love but this time it is the Doctor Who version.
Choose one of the Dalek armies and start you battle to invade the earth.
The Doctor Who Risk game comes with one board game, 5 Dalek armies, one Tardis, a Clara token and 67 power and mission cards.
Now you can be looking forward for a rainy day because then you can play Doctor Who Dalek Risk again.
Get ready to play Doctor Who Dalek Risk Board Game.