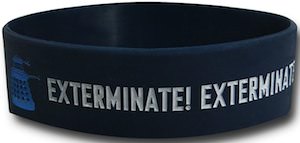 Is your goal in live to exterminate?
If so then you just need this Dalek wristband.
This dark blue wristband shows a Dalek and the text "Exterminate!" a couple of times.
Doctor Who fans of course want this wristband just because it is Doctor Who and everything related to the Doctor is cool.
And maybe this rubber Doctor Who bracelet makes Daleks think you are one of them and they don't hurt you if they come to invade earth again.
Either way this Dalek wristband is just fun and would look great with a Doctor Who t-shirt.
So lets get ready for you own Doctor Who Dalek Exterminate! Wristband.