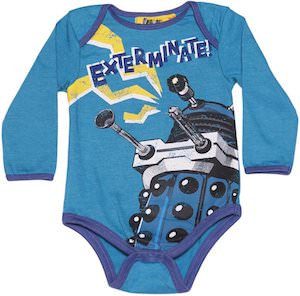 Do you have a little baby that is in need of some Doctor Who merchandise?
How about a Dalek bodysuit? This bodysuit is blue and has long sleeves and 3 snap buttons on the bottom.
And on this bodysuit you can see a blue Dalek and he is shooting yellow rays and says "EXTERMINATE!".
A piece of Doctor Who baby clothing is a great way to start the love for the Doctor early in life.
This Dalek bodysuit comes in sizes 0 – 18 months and will be loved by baby and parents.
Lets get your new born prepared for the Doctor and his enemies with this Doctor Who Dalek Exterminate Baby Bodysuit.