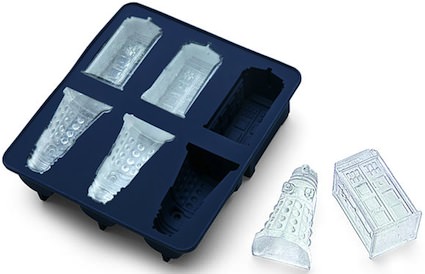 Summer is great but your drinks need ice but that can become more fun with this Doctor Who ice cube tray.
It will make 3 Tardis and 3 Dalek ice cubes that are about 2.5″ tall.
And it does not have to end with ice cubes as this tray is oven safe so you can make all kind of things.
How about chocolate Tardis and Dalek figures or maybe make some Doctor Who Jello shots.
The Tardis and Dalek ice cube tray is made from food safe silicone and can be just washed in the dishwasher.
I now really want some chocolates made with this Dalek and Tardis ice cube tray.
Are you longing for ice cubes or other fun foods? If so then come and get your Doctor Who Dalek And Tardis Ice Cube Tray.