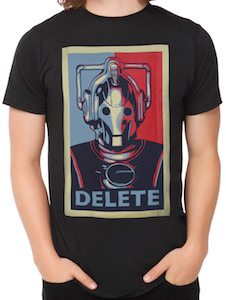 This black t-shirt shows a Cyberman as if it was printed on a artsy poster.
And of course below the Cyberman still in the same square it says "Delete" as that is one of the few things every Cybermen will be able to tell you.
This Doctor Who t-shirt is available in men's sizes XSmall – XL and will also look great on women. And yes this Doctor Who t-shirt is made from 100% cotton so that it just feels perfect on your skin.
You may also like: