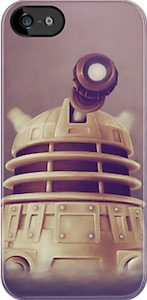 The Time Lord is always on the lookout for a Dalek and now you can protect your iPhone or iPod touch in a case that has a close up picture of a Dalek on it. It's great to have a case with a Dalek so that you know immediately when you see one.
A Doctor Who fan that does not want the standard Tardis or Doctor Who case will be so happy with this case.
The picture is not just printed on top of the case, it is printed in the case so that you don't have to worry that it ever flakes or scraps of.
And this Dalek case is available for a wide range of Apple products.
You can get this case for the:
iPhone 5

iPhone 4S
iPhone 4
iPhone 3GS
iPhone 3G
iPod Touch 4e generation
And of course a great case like this will protect you phone from harm while keeping the ports and buttons available for use.
So if you are that Doctor Who fan that wants a Dalek case then you have to check out this Close Up Dalek iPhone And iPod Touch Case.
NOW ALSO AVAILABLE FOR SAMSUNG GALAXY S4 AND GALAXY S3!