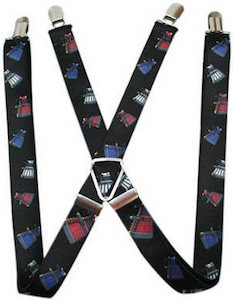 Belts are boring so lets replace them with some fun Doctor Who suspenders.
These black suspenders will be perfect for a fan of the Doctor. On these black suspenders you can see a bunch of Dalek flying around. There are red, blue and white Dalek in different sizes just to make these suspenders just look fun.
And suspenders go with pants, shorts and skirts and yes men and women can enjoy them.
And of course the nice side effect is that your pants don't fall down any more because the Dalek will keep them up.
Stop wasting time and come get your Doctor Who Dalek Suspenders.