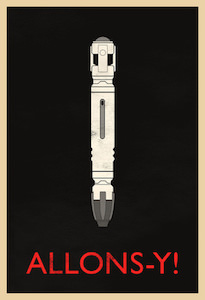 Empty walls are boring but now a Doctor Who fan can change that wall into something nice.
This Doctor Who poster has a cream border with a black background in the middle and then a Sonic Screwdriver and the word "Allons-y!" so yes the Sonic Screwdriver is from the 10th Doctor.
And this poster is not to busy so that it would even look good in your living room without scaring away the rest of your decor.
Framed or just like it is this 10th Doctor reminder poster is just perfect with nice tones in color.
Find a spot on your wall for this Doctor Who Allons-y! Sonic Screwdriver Poster.