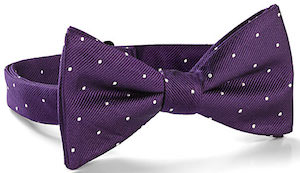 This is a reproduction of the bow tie the 11th Doctor wears in the 50th anniversary episode "The Day Of The Doctor".
And yes this is an officially licensed Doctor Who product that should not be missing in your collection.
This purple bow tie is made from 100% silk  and has white polka dots on it.
The 11th Doctor's bow tie comes pre wrapped but can be rewrapped if you want to.
It will fit a neck 15 – 20 inch.
And a special item like the bow tie Matt Smith wears in "The Day Of The Doctor" of course comes in a special box.
It comes in a cardboard version of the box from "The Bells of Saint John" episode with a 50th anniversary cardboard wrap.
This is a very special item that should not be missing in any Doctor Who collection.
So don't wait come and get your Doctor Who 11th Doctor Purple Bow Tie.