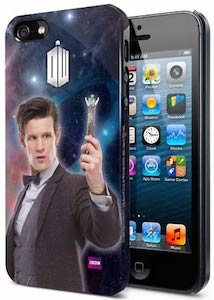 With the 11th Doctor gone we would like to keep thinking about this amazing Doctor Who.
And that is why there now is this case for the iPhone 5 and iPhone 5s. The hard case keeps all ports and buttons of your iPhone ready for use and in the mean time it just gives it the perfect Doctor Who look.
You can see a big picture of Matt Smith as the Doctor holding his Sonic Screwdriver in his hand. And behind him you can see a galaxy with the Doctor Who logo on top.
Why not give you phone the Doctor Who treatment it deserves and in the same protecting it from harm.
Now is a great time to shop for your Doctor Who 11th Doctor iPhone 5s Case.