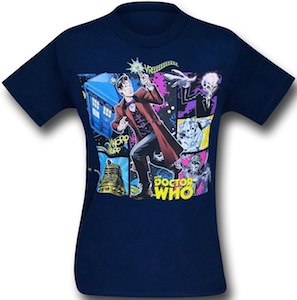 There is the 11th Doctor in an adventure with his enemies and the Tardis. And all that in a comic book style.
On the background of this navy blue t-shirt you can see comic panels with the Tardis, Cybermen, Silent, Dalek and Weeping Angel. And in front of all that you can see Doctor Who running around with his Sonic Screwdriver making overtime.
This Doctor Who t-shirt is just fun as it tells kind of a story and many with this t-shirt you can explain the Doctor to people that still don't have a clue what is going on in the galaxy.
Come and take a closer look at this 11th Doctor Who Comic T-Shirt.