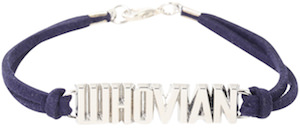 As a true Whovian you of course already have this Whovian Necklace but now there is a fun bracelet for the days that you don't want to wear a necklace.
Now you as die hard Doctor Who fan can have a fun bracelet around your wrist that tells you and everyone else how much you like the Doctor and his adventures.
The Whovian bracelet is 8 inch long and has a blue cord with a metal sign that says "Whovian" it all looks fun together and matches with almost anything.
So as a fan of the Doctor this bracelet will be admired by many so do not hesitate and order yours today.
Come and get your Doctor Who Whovian Bracelet.