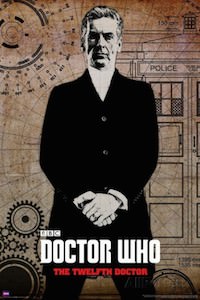 By now we all know Peter Capaldi as the 12th Doctor Who.
And I have to be honest I like him as the Doctor.
I don't know if I like him enough to get a poster of him on my wall but maybe you like one.
This Doctor Who posters shows a background of a drawing of the design of the Tardis and in front of that you can see the Doctor wearing his black coat. And as you can see the Doctor does not have any color just black and white giving it that special effect that works well with the plain background.
On the lower part the poster shows the Doctor Who logo and below that in red the words "The Twelfth Doctor".
This Doctor Who poster is 24 x 36 inch and can bought just as the poster or framed if you like.
Come take a better look a this Doctor Who The Twelfth Doctor Poster.