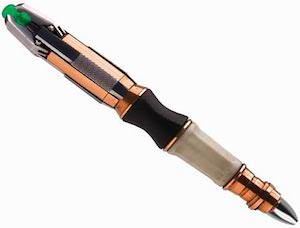 Are you sick of boring pens?
Doctor Who fans can change all their pens now with a more fun one that looks like a Sonic Screwdriver.
This Sonic Screwdriver pen looks just like the Sonic Screwdriver used by the 11th Doctor but then without all the sonic stuff happening.
No this pen just writes and it can do that in black and green as it has two ink cartridges inside it. So start writing and green then press the button and continue in black.
When a Doctor Who fan gets hold of this Sonic Screwdriver pen then from then on they never want to use a normal "boring" pen again.
So lets all check out this fun looking Doctor Who Sonic Screwdriver Pen.