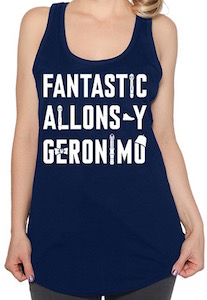 Who is you favorite Doctor?
If it's number 9, 10 or 11 then this tank top could be perfect for you.
This blue women's tank top comes in sizes XSmall – 3XL and is made from 95% cotton and 5% lycra.
On the front of the tank top you can see 3 famous catchphrases  uses by one of those 3 Doctors.
Doctor Who's are a bit funny so the phrases are Fantastic, Allons-y and Geronimo. And each word has at least a Sonic Screwdriver in it but there is a shoe, bowtie and fez to.
Not everyone is gone get this tank top but that will sort out the real Doctor Who fans from the once that just want to be one.
Get ready for summer by wearing this Doctor Who Catchphrases Tank Top.