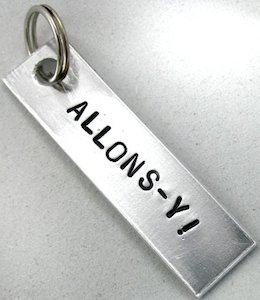 Those Doctors all have their funny things they say and as you may remember the 10th Doctor would like to say Allons-y.
Now you can have an amazing key chain that says "Allons-y!" just like the Doctor said it.
And this key chain is made from aluminium with hand stamped letters making each one different and unique.
Of course this key chain is great for your Tardis, car or bike as Allons-y means lets go and to go you could use a means of transportation.
Give those keys a special friend with this Doctor Who Allons-y Key Chain.