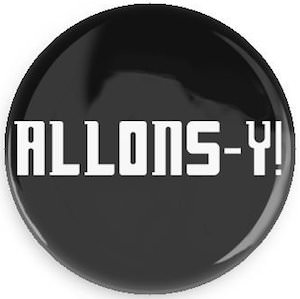 Allons-y! that is what the 10th Doctor would say when they would do something. And this catch fraise was fun and to remind you about how much fun the 10th Doctor was there now is a fun button.
This black Doctor Who button is 1.5″ in diameter and is a pin back button. And on all that black it says in big white letters "ALLONS-Y!".
Just imagine how much fun it is to have this Doctor Who button on your shirt, jacket or maybe you bag.
This Allons-y button is one of those items a Whovian will love and use everyday.
So don't wait come and get your Doctor Who Allons-y! Button.