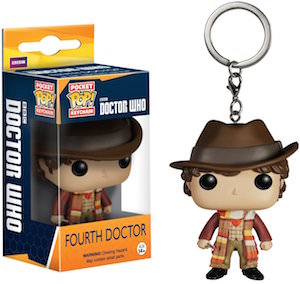 The 4th Doctor Who was of course an interesting looking Doctor with his hat and his famous scarf.
And now you can have this classic Doctor as a key chain.
This Pocket Pop! key chain of Doctor Who is 1 1/2 tall and comes with a key ring and clip making it perfect to live with your keys or to use to decorate things like you jacket or backpack.
Now you never have to leave the house again without having a Doctor with you.
A true fan of the classic Doctor Who will really enjoy owning this.
Don't wait come get your 4th Doctor Who Pocket Pop! Key Chain.