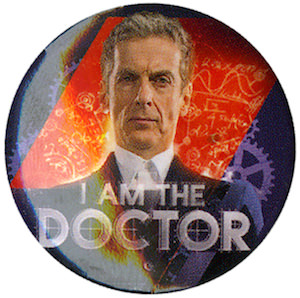 Who is the Doctor?
Of course it's Doctor Who number 12.
This button will tell you that.
This 1 1/4 inch button with on it the portrait of the 12 Doctor and in the background you can see details of the intro video of the Doctor Who episodes and then on the foreground it says "I am the Doctor".
A fun button like this is great for a bag, jacket, backpack or anything else fabric so that you can show the world who the Doctor is.
Peter Capaldi is the Doctor and now you can show who the right Doctor Who is.
Don't wait come get your own I Am The Doctor Button.
You may also like: