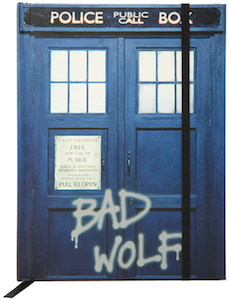 Writing has to be done for so many reasons like school, work, diaries or just a simple list.
As a Doctor Who fan you can now have the perfect journal that works for all those things.'
This is a  192 page 6 1/4 x 8 1/4 inch journal that looks like the Tardis with a spray painted Bad Wolf on it. And the same Tardis image can be found on the front and the back of this journal.
The Doctor Who journal has an black elastic to keep it closed when not in use and a black rope to use as bookmark.
And each page is lined and has some Doctor Who stuff happening in the background and there is even some "Wibbly Wobbly Timey Wimey" happening on some pages while others offer the Doctor Who logo.
You may also like: