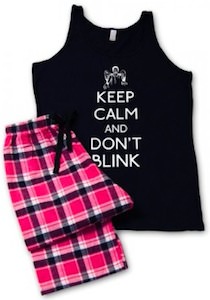 Are you looking for some fun women's pajama based on the Weeping Angels from Doctor Who?
You are in luck as we found them.
The pants of this sleepwear are a pink plaid design and the top is a black tank top.
On the tank top you can see a picture of a Weeping Angel and the text "Keep calm and don't blink".
I personally believe that when you sleep even though your eyes are closed you do not blink so the Weeping Angels stay far away.
This Doctor Who sleepset comes in sizes Small – XLarge and will be a great item to wear at night.
So if you need new pajamas then come see this Doctor Who Keep Calm And Don't Blink Women's Pajama.
You may also like: