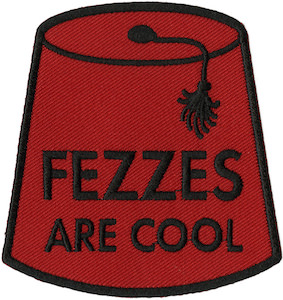 If you are a fan of the 11th Doctor Who then you know about his strange hats and specially the red Fez.
And now there is this clothing patch that looks like a red fez and has the text "Fezzes Are Cool" on it.
This Doctor Who patch is 2 1/2 x 3 inch and can be easily ironed on to fabric or sown if you prefer.
Now pants, shirts, jackets, hats or even a backpack can all get decorated with this patch. Options are limitless as almost anything can now have this red fez on it.
Don't forget the 11th Doctor and decorate your clothes with this Doctor Who Fezzes Are Cool Clothing Patch.
You may also like: