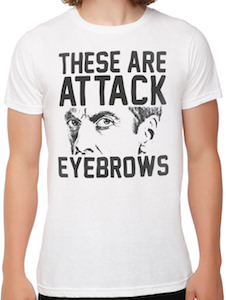 This white Doctor Who t-shirt is different and funny just like the scene it was used from.
On this t-shirt you can see the face of the 12th Doctor but only from the nose up and it is all about those eyebrows. Besides the face of the Doctor it also says "These are Attack Eyebrows" just like he said on TV.
Only a true fan of Doctor Who will even understand that this is a Doctor Who t-shirt and that makes it extra special and so much better then the once you don't have to guess.
This 12th Doctor t-shirt is made from 100% cotton and comes men's sizes XSmall – 3XL and sure the ladies can wear it to.
Come and have a closer look at this fun Doctor Who These Are Attack Eyebrows T-Shirt.
You may also like: