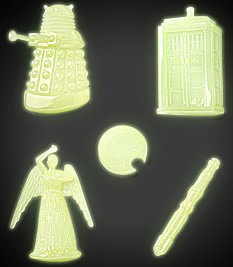 How about a set of 24 Doctor Who glow in the dark stickers to decorate your room?
In this set of stickers you will find 3 x Dalek, 3 x Tardis, 3 x Weeping Angels, 3 x Sonic Screwdriver and 12 x Gallifreyan Text.
Just stick them where ever you want and in the day time when it is light the stickers will charge and then when it gets dark they start to glow. It could be a bit scary waking up at night and then seeing Weeping Angels and Daleks glowing in your room but no worries because the Tardis is there to and even the Sonice Screwdriver from the 11th doctor.

You may also like: