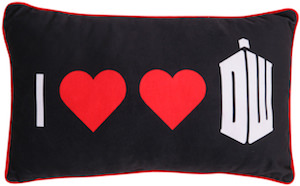 If you like the pillow above then you are loving Doctor Who.
This Doctor Who pillow is black with a red edge and on the front of this pillow you can see the letter "I" and then two red hearts and next to that the Doctor Who logo. So basically the pillow says "I Love Doctor Who" and that is not all the back of this pillow shows some city lines and lots of Dalek, Cybermen, Weeping Angels and the Tardis. It almost looks like they are in a battle.
This Doctor Who pillow is 20 x 12 inch and perfect to cuddle with and to keep on a chair, couch or the bed.
Click on the picture above to see the back of this I Heart Heart Doctor Who Pillow.
You may also like: