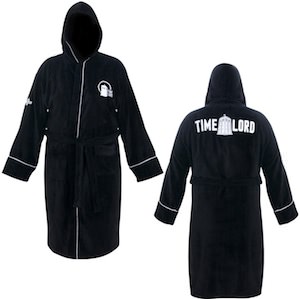 Nothing better then hanging around in a nice warm bathrobe.
And now there is this Doctor Who robe that is black and will feel so much better because it is from the Doctor.
On the back of this bathrobe it shows the Tardis and the words "Time Lord" because the Doctor is a time lord and he is just borrowing your this robe.
On the front and sleeve you can also see Tardis pictures to make it even more fun to wear.
And this Doctor Who bathrobe is made from 100% cotton terry cloth that will absorb water and keeps you dry and warm.
You can even wear the hood of this robe to feel even warmer.
Come and check out this fun Doctor Who Time Lord Bathrobe.