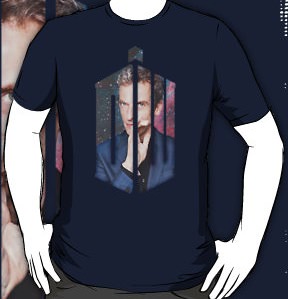 And after 11 comes 12 and that makes Peter Capldi the 12th Doctor.
Doctor Who always changes if we want it or not and number 12 will be different but I am sure we love him as much as we did the lasts 11.
And this Doctor Who t-shirt show Peter combined with the Doctor Who Tardis shape logo.
This Doctor Who t-shirt  comes in men and women's version in a range of colors and sizes to make every Doctor Who fan happy.
Be the first of your friends who have a 12th Doctor t-shirt so come and order this Doctor Who 12th Doctor Peter Capaldi Logo T-Shirt .