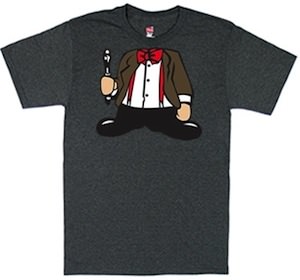 Are you looking for that fun Doctor Who t-shirt that shows a little Doctor instead of a big one?
This t-shirt can be the one you are looking for.
On this t-shirt you can see a picture of a little version of the 11th Doctor complete with red suspenders, bow tie and even his Sonic Screwdriver. The fun of this shirt of course is that the Doctor is small and secondly your head will be part of the Doctor.
You can get this t-shirt in a men and women's version in a wide selection of sizes from Small – 2XL and they even have an oversized version going all the way to 6XL.
And if grey is not your color then you are in luck this Doctor Who t-shirt also comes in black.
Come and have a closer look at all the versions of this Doctor Who Little 11th Doctor Costume T-Shirt.