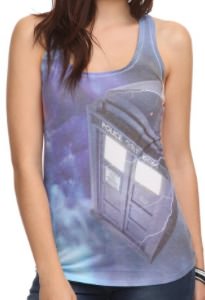 Are you that female Doctor Who fan in need of a new tank top?
If so then we might have found you the perfect tank top.
This tank top shows a blue sky / galaxy print and on that you can see the blue police call box flying by.
Of course we both know that this is the Tardis and with luck the Doctor will be inside going to his next adventure.
This fun Doctor Who tank top comes in a wide range of  sizes from X-Small to X-Large. The Tardis tank top is made from 95% cotton and 5% spandex and will be the talk of the town this summer.
So don't hesitate just come and check out this Doctor Who Tardis Tank Top.